Christmas Time Bliss
It's Christmas Day!!
I have to say I'm crazy proud of myself for sitting down at the computer & writing a "blog post" right now. I know slightly ridiculous, but it's the small things. As many or some of you might know I live about 6 hours away from most of my immediate family, and at least 20 hours from my beautiful little nephew, older brother, & his wife. So needless to say us all being together over this Holiday has taken priority.
A slight recap?
I thought you'd say that...
I arrived in the grand land of St. Louis late Saturday afternoon.
On Christmas Eve My Dad's Church put on a massive Christmas Eve Dinner & gift giveaway for the homeless/needy of the St. Louis/Illinois area. All with the theme that
no-one
should spend Christmas alone. It was such a beautiful site to see hundreds of boys & girls, grown men & women receive a hot Christmas Meal & gift after gift.
That guy on the stage is the Pastor who envisioned & put together the whole evening, oh & he's my Dad!
After coming home from church last night my family carried on our tradition of opening stockings & watching "The Christmas Story" before each of us slowly trickled off to bed. Only to wake up in the morning & see all of this.
Christmas dinner around here always includes a gorgeous display... and Welches Sparkling of course ;)
Last but most certainly NOT least, I can't make a visit home & see this precious face without posting pictures galore, you see why?
It really is the most magical time of year isn't it? Despite all of the chaos, & tummy full of food (making me want to crawl on the couch in my PJ's & call it a night). I just couldn't let today go by without stopping in to wish every last one of you the Merriest of Christmases! I hope your day was filled with lots of gifts, even more laughter, and even more LOVE. May you be reminded of the true meaning of Christmas, and given a chance or two to give with all that your heart can bear.
Happy Shopping beginning tomorrow gals! Get ready for Sales & Madness!
Until Next Time,
P.S. I linked up with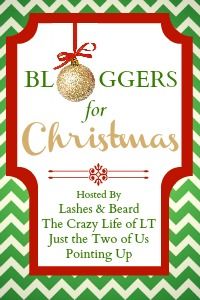 You should check them out ;)