LOOK OF THE DAY: Leopard Frenzy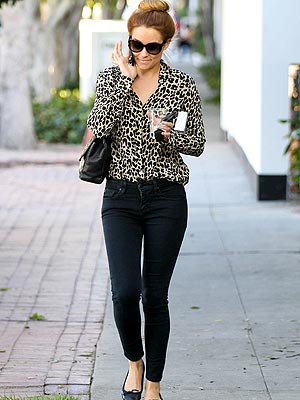 I woke up this morning with zero desire to get blog worthy fabulous.
A) I thought it was Thursday for a good 30 minutes.
B) The cold morning air came back to Tulsa, Oklahoma. I just wanted to crawl back in bed and put a big comfy sweater on, but you know there's that whole thing called having to make a living and everything.
So, I got dressed.
What does one wear when hair is 2 days over due being washed, and it's actually Wednesday NOT Thursday? Leopard that's what, because Leopard can make you look fierce even when you don't feel it my friends.
#1
.
"The Lauren Conrad"
is great for the day to day, especially in the winter. Running errands (like it looks like she's doing) or throw a blazer over it and call it appropriate for work. No matter what it's a simple go-to.
#2.
"The Olivia Palermo"
is fun & flirty. I paired a red skinny belt over this H&M dress to pull in the waste and add a pop of color. Great for dinner or a night out, and perfect with tights in the winter!
#3.
"The Emma Stone"
is fierce female at it's finest. Good for work or a romantic night, a leopard pencil skirt shows your confidence from all the right angles.
#4.
"The Pippa Middleton"
is all about Accessories. Just one accessory with leopard print can add that edge your Wednesday is needing. A Scarf is an easy way to add some pattern to a simple outfit as well as flats or a clutch! Just don't go overkill on me & pair them all at once.
How do you feel about Leopard Print this Season? All About it or So Over it?
Share YOUR thoughts, below!