BLACK FRIDAY Draws Nigh
I recently heard someone describe "Black Friday" as a "Hoax". A way for the retailers to you get you to their shops spend a whole bunch of money you probably wouldn't have spent had it not been Black Friday, and have you think the whole time that you are "Saving Hundreds"
The next day I heard another person say it is hands down the best deals of the year and she HAS saved hundreds in her Black Friday excursions.
So whose right?
Personally, even though I consider myself to be quite the "deal shopper", I really enjoy Black Friday more than anything for the hilarious people watching. Seriously, my best tip? Grab a coffee, go with your girls at midnight, find a great bench, & enjoy the evening.
And Okay maybe grab that awesome Coupon from Express for 50% off.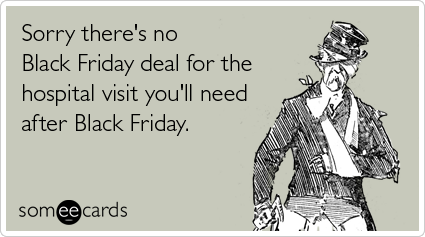 Nonetheless this year I'd love to hear what YOUR Black Friday Shopping experience has been
before
we embrace the Holiday with Wallets wide open again this year.
SO VOTE!
I've created a poll in the left hand side bar of Fashionable Cent$!
<--------------------- See it?
You have 3 options, choose wisely.
I can't wait to see what everyone decides, and how this year goes in the races, I mean the mall.
P.S. Do you have any hilarious, outrageous, or just plain traditional "Black Friday" Stories? Share them below!