LOOK OF THE DAY: PIPPA "PREP" MIDDLETON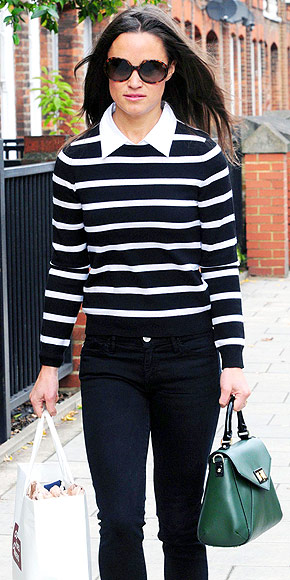 Pippa Middleton working Today's Look as only Pippa Middleton would.
Classic, Clean & Professional. That about sums up today's "Look of the Day" pulled off by Pippa Middleton herself. I'm wearing a similar look... (Imagine the black & white striped sweater swapped out for a grey version) and voila, there I am! Oh, and maybe minus the Kate Spade bag that goes for $428... one day Angela.. One day.
1. Black Skinny's!
So by now if you've read my blog at all, you know that you should probably get yourself a pair of black skinny jeans. The possibilities with them are endless, and I'll probably just keep blogging about them until you add them to your closet, and thereafter too. Hey, a girls got to know what to wear 'em with right? That's what I'M here for ;)
2. White Oxford Blouse!
I'm literally wearing this exact white blouse as we speak. You may just be surprised at it's fantastic fit. Though, it's not from the finest thread count (it's 100% Cotton) the knit side panels create a great hour glass illusion, and even though we are covering it up today and using it just for it's collar, it's a great "work" piece to keep around.
Pullover Sweater in Grey
GAP
$39
3. The Sweater
To get Pippa's look spot on, go for this black & white striped sweater from LOFT, if you're like me and you already have a grey one in your closet go for that! Either way the look looks pulled together, chic, a hint of preppy, and totally work appropriate.

4. The Shoes!
Those silly paparazzi left us hanging... so I'm leaving this one up to you.
What shoes would YOU pair with this ensemble?
Comment Below!
XO