Those Emmy's & Her Style...
I Just had to. I mean, what is a fashion blog if there's no day dreaming over Celebrity's glorious red carpet appearances and bashing the ones that we deem not so glorious. Here's my take on the good, the beautiful, the bad, and the ugly.
Worst Dressed According to Angela
I feel like a "Mean Girl".. this isn't fun. Oh well.
The world of fashion just isn't forgiving ladies, and don't you forget it.
Archie Parajabi
The "PROM" Fail
That's all I can say about this. She looks like she's going to
Prom. With all of the world renowned designer gowns
at your beckon call why opt for one that looks like
every dress in every high school of America?
I will never understand....
Lena Dunham
It's all wrong it's just all wrong.
The one night you're entitled to feel like a glamorous princess
Why would anyone opt for Grandmothers Drapes?
I'ts really not so much the pattern or even style
as it is the fit. Just too much fabric over sized hiding any hint of a feminine frame.
Sorry Lena, this one was a miss.




Kristen Wiig in Belenciaga
I know I know you're like BUT IT'S BELENCIAGA!
Seriously though girls, she looks like she's going to a summer BBQ.
Maybe minus the heels, but still.
I actually like the dress, just not for the Emmy's.
Lesson to Learn?
I'd rather be over dressed than under dressed any day of the week.
Ashley Judd
Though her dress provides a tad of "Southern Charm"
and fits her body like a glove, it just doesn't make up for the rest.
The color, the big bow tied at the back of the neck, the broach, and the HAIR.
Oh that Hair. At 5'2 myself I'm all for adding height... but let's stick to heels for that girls,
not hairspray.


Okay enough of that... there were more, but I tend to enjoy looking and talking about looks I love a lot more than looks I loathe. On to the good stuff...
BEST DRESSED According to Angela
Padma Lakshmi in Monique Lhuillier
The fit, the texture, the color.
Her whole look screams "simple elegance" (which is what I'm all about)
The subtle orange plays off her rich skin tone so lovely.
I saw, I sighed. Perfection.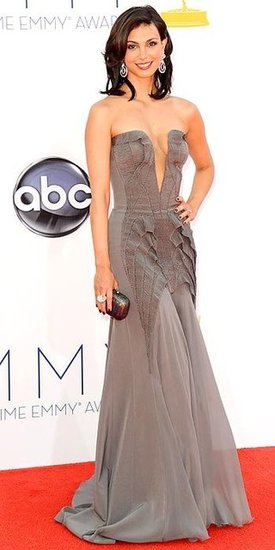 Morena Baccarin in Basil Soda
The detail of this dress upon closer look is incredible
and once again the star paired it with just the right amount of
accessory-age. The plunging neckline adds some "scandal" but not so much that
it steals from the class.
A Well Done from the classroom of Angela.
Leslie Mann in Naeem Khan
This one's personal.
I just fell in love with this dress when I first laid eyes on it
The bohemian but not too bohemian feel
the neck, the color. Not to mention her great color combo-
the turquoise jewelry (notice earrings & bracelets)
against the orange hue of the dress.
So much us gals can take & combine with our everyday looks!
love love love.


Giuliana Rancic in Ramona Keveza
That's what I call "A Black Tie Affair"
Such Elegance paired with her flirty pony tail.
The slit showing off those oh so fabulous shoes, to the belted waste (but not too belted) to the modern neckline.
She stood out in the best way possible.
That's how you do black girls.





What were YOUR picks for best & worst dressed?




Because you know, WE obviously know so much better than all of those Celebrity Stylist's. ;)