A September to Remember
September, in the Fashion World is a month of Don'ts rather than Do's.
It seems to leave us, and the majority of our closet, hanging in the wait for a change to come along... that isn't quite ready to happen yet.
It provides us with all of the anticipation in the world, but makes us wait just a little longer to grasp on to any real, new substantial change. All during the exact same time of saying "Don't wear those Summer White Pants you Outcast"
So what does it leave us with? Long Mornings of flinging hangers & tops in attempts to find the perfect September Wardrobe.
What Oh What to wear today she asks....
For My generation: High school Flashback!
TELL me this hasn't been stuck in your head for the past
3 days? Hmmm.... now it is. So appropriate :)

Well, I'm here to throw all of that out of the window. The simple fact is that:
THERE ARE NO RULES anymore.
Guidelines? YES. Rules? NO.
Rules do not belong in style. Fashion, maybe, but Style -Never. Style was created and is created every day by every individual woman who has the guts enough to try something DIFFERENT.
So here's to September & White Pants - Because Who said we can't anyways?
September Looks for the Books
via: Refinedstyle.tumblr.com
I love that this embraces both summer & fall AKA- SEPTEMBER
& so easy to pull off - summer dress, cardigan, match fall bag & cute sandles.
DONE & DONE.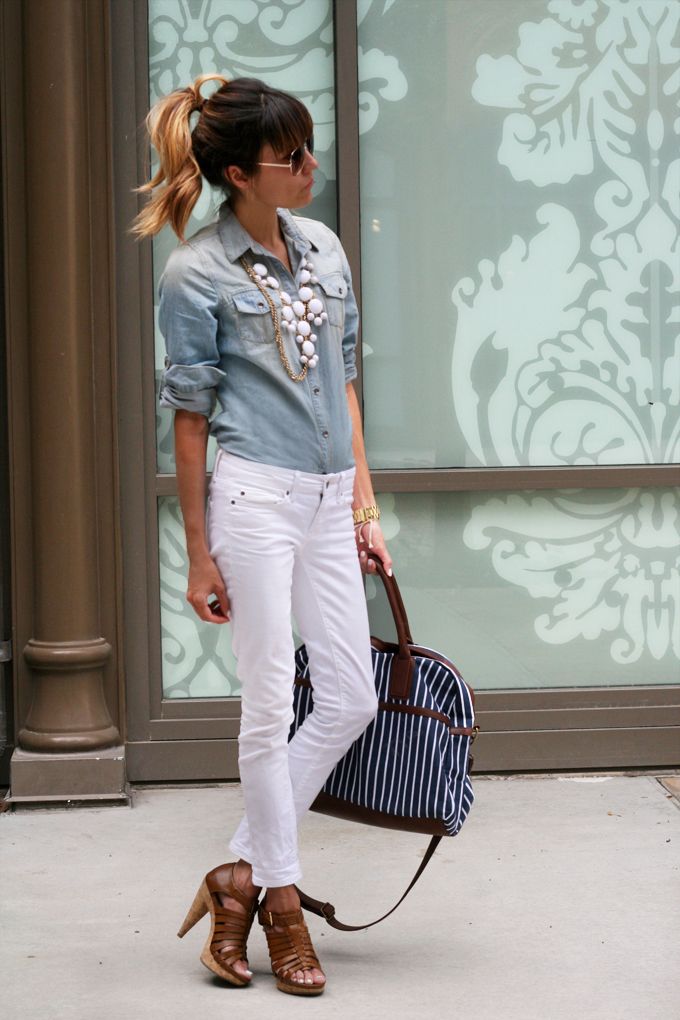 White Pants: No she didn't Yes She did! So what if it's "After Labor Day"
That "moto" is about as old as Grandma Mildred. Pants weren't made for summer & these pants
well, these pants would just look perfect on say, Sept. 15th?
Via: the fabulous blog of www.hellofashionblog.com
So you're sick of shaving your legs, your tan is fading & maxi dresses are just too "July"
opt for a maxi skirt instead in a neutral color like this one:
Fall, yet cool enough for the summer breezes that haven't let go just yet. Cool Indeed...
Olivia Palermo looking Chic- as always. Via: celebrity-gossip.net
This says: "I'm not quite over Summer yet... but I'm open to exploring new prospects, like maybe Fall?"


"The Blazer Effect" Via: tumblr.com
Tie in a coral (or any "summery") color blazer. It just always, always works.
Looks like the Jokes on you September! Just like that we have 5 Different looks that kick September and all of it's "in-between seasons-ness" in the face. What a good Day.
Happy September Gorgeous Girls! Go make it one to Remember...