LOOK OF THE DAY: DRESSY SHORTS
Chic Chic Chic & So put together.
Wearing "Dressy Shorts" is by no means a NEW trend, but it's also not going anywhere any time soon. (Until I suppose, winter arrives). Time is running short to look THIS fabulous! So here's a few keys to pulling this look off;
Check out these fab tweed dress shorts on tobi.com
$20!
Shorts just musn't be too short, or too tight. We want to keep the class here, not the beach bum look (another time, another place). There are so many options of dressy shorts out there now a days & they are often looser, and higher wasted.
Don't be afraid of heels, they add a daring flavor but still keep it in the class zone if you keep them simple & pair with the right top.
Pick a pattern - aka if you're shorts have a bold pattern stick with a solid top/ blazer. If you're shorts are solid, opt for a floral or patterned blouse.
Lean towards a solid color? These black dress shorts are also featured on Tobi.com for only $23
*Our Featured "Look of the Day" Girl is actually just wearing a plain old white tank top with her fabulous look. Shocking right?! I hope you already have one (they go under EVERYTHING) but if not just pick one up at Target....
Target - $8
Kohls $36
( I like the bright color, Navy looks great as well in the fall)
The blazer ties the whole look together and really provides it with a professional feel. Yes, Shorts can look professional. Who knew?
Shoe Dazzle $35
Target $14.99
Pair the whole look with a great pair of flats, or heels some colorful heels if you're feeling the mood. Keep both on the more Simplistic side (less is more), and let your legs do all the Talking.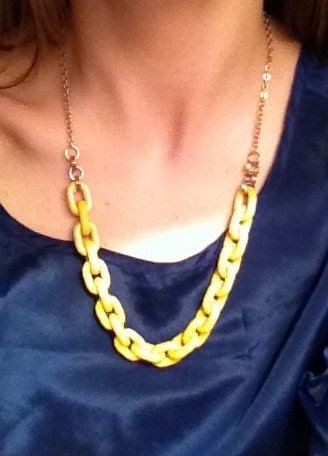 A fabulous Mustard & gold Necklace would look great with the Navy Blue or Aqua Blazer
Etsy: $27 by Claire Fair OR if you're pair silver pieces this J.T. Accessories Necklace is only $14.99
Finally, If you stuck with the plain white tank, and blazer go for a light statement necklace, and your look is complete! (P.S. Refer to my Accessories Tab to find a great tutorial on making your own statement necklace, and cutting that price right off this outfit.)
Ah, Dressy Shorts. I know the summer is coming to an end, so I'm not advising to go out and invest your latest purchase into a pair of shorts, but if you have some laying around, or some that you've worn every day this summer, try something New with them, like dressing them up. Just a few short weeks left of bearing our legs ladies... Let's make it count!
XO