FALL FASHION: 10 TRENDS YOUR FALL WARDROBE CAN'T GO WITHOUT
I know, I know...I'm wishing away my last few summer weeks, but I just can't help myself!
Everything about fall calls my name!
Cozy nights by the Fireplace, Scarves, Hot Cocoa & Cider, Candles, Boots, Leaves, Crisp Cool Air, Tights, Pumpkin Seeds (Yes, pumpkin seeds, the most delicious thing on the planet), Cardigans, the list goes on!
I just can't wait to embrace each and every one of these lovely autumn traits!
But I refrain, because I know it will be SO worth the wait.
Meanwhile, (if you're a shopper you KNOW this) the stores are just about killing us with all of the amazing "Back to School" clothes- I just want to buy it all!
Yet, Living in Oklahoma, I'd literally melt to death (and just look plain foolish) if I wore any of it tomorrow.
So, In the mean time, I'll write about every Fall Staple your wardrobe just has to have by September 22nd.
Tobi.com $12

topshop.com $24 Cable Knit
Forever21 $5.80
FredFlare.com $15
I'm not going to lie.. I basically live in leggings/ tights come Fall & Winter. They are so easy and effortless. They can be casual, dressy, stylish & comfy all at the exact same time. I just adore the trend/fad and sincerely hope it never leaves us. My particular favorites are cable knit tights, and solid black leggings. They go with just about everything. The tights look great with a long blouse or short dress. Pattern Tights like those pictured Above from Fred Flare, also add wonderful fall effects to a solid color dress. Get those leggy's in those tights girls! And what looks the absolute BEST with tights/leggings?.... BOOTS.
Wild Diva Ankle Boots - $30
Equestrian Boot Target- $34.99
Fitzwell Rylee Wedge Boots -$56
Boots! Brown & Black are always my go to's but I also love a great grey pair. An over the knee boot is fabulous as well. Tip: if you have short legs opt for an over the knee boot with a little lift -a wedge keeps it casual while a heel dresses it up. Ankle boots are also a major statement and look beyond chic with a pair of skinnies.
3. You can never have too many SCARVES
If you could see my closet you'd understand... the scarfage is a little bit ridiculous, but I love it! Come fall they go with and over EVERYTHING. Don't be afraid to get creative with them either, there's so many different ways to wear them, and different items to wear them with. My current favorite? The Infinity Scarf.
Forever 21 $7.99 !!
There are few things better than a chunky, knit fall sweater.Warm, Cozy, reminds me of Grandma- but most of all it's CHIC. Seriously! I love them over a simple tank, some leggings and ankle boots, as Rachel Zoe would say: "So Maj"! Here's some great examples:
Aztec Cover Up Express - $88
American Eagle $49
Lucky Brand $45


Ladies, Before you have a heart attack & decide that I've succumb to the pressures of the more "Expensive" Items, (Referring to the Express Sweater Listed above) let me explain. I am by no means in the habit of spending $90 on one sweater, but I must say when it comes to big knit sweaters and Express- there's far to none to compare. My point is, invest in one amazing sweater for this fall/ winter... I promise it will be put to good use!

5. Cardy CARDIGANS
Anna Kaci - $20.90 Amazon.com
Tobi.com "Fozzy Cardigan"- $38
Target - $22
Perfect for Work, or running errands. And.. you guessed it, paired with boots. I love a Mustard Colored Cardigan for Fall, it just embraces everything about the season, and a classic "University" Look is preppy but most always appropriate. Finally, for instant upscale of the age old cardigan? Pair it with a belt sinched around the middle of your waste. Which brings me to #6...
Set of 2 Belts for $26 - Kohls
Braided BDG Belt $20
These are great for showing off your shape! With so many loose & blousy tops & layers this fall, it's easy for your figure to get lost in the mix. Throw one of these over a dress, blouse or even cardigan for a trendsetting outfit in seconds.
I just love the idea of pulling out the timeless leather jacket when fall returns each year. You simply cannot go wrong. Well... Just make sure the fit is correct, and THEN you can't go wrong :)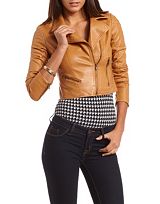 Charlotte Russe $39.99
$55 Ebay.com
P.S. I'm all for Faux Leather... obviously, I couldn't be getting either of these jackets if they were priced at real leather prices... but C'mon they look just as good do they not?
Francescas $54
Every Girl needs a good Fall purse. And a good Winter purse, and a Good Spring Purse... but let's just focus on fall right now. If you want to brighten up the usual drab brown tones of fall, opt for a brown bag (that way it always ties in your outfit) but with some added color to it, like the striped tote you see below. But if you're like me and you can't wait to embrace the beige, brown, mocha, carmel, (mmmmm) then just eat it up. (Ideally, We'd take both).
Francesca's $48
9. PLAID doesn't have to mean Country
Target $19.99
AE - $39.95 Tobi.com $28
Nothing quite says fall like a classic plaid button up. What I love more than anything is the array of options we now have with them, they come in endless color combinations, fitted to blousy, boyfriend fit or feminine fit. These are great for any given fall day, with Jeans or leggings depending on your fit of choice. A classic Fall Staple through & through my dears. My only tip? Please don't pair with "cowboy" boots unless you are actually riding a horse, or going to a stampede, its just unnecessary.

10. The HOODIE factor


Tobi.com $54
My thoughts tossed back & forth long & hard as to actually include the word "Hoodie" in what is supposed to be a trendy fashion blog. But my dears, it is what it is. Fall Comes but once a year & there are 2 things (among many others) that come with the territory... Football Games, and Bonfires. It's inevitable, even for me. Now granted; I am most likely the girl you see at a game with my hoodie paired with high heels. It's an art really it is, but that is for another blog, another time. My Point here is that I am so thoroughly impressed with the trendy "hoodie" options we have nowadays. Here's a few examples :)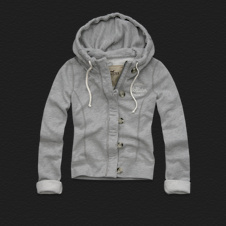 Hollister - $24.95
Wide Neck: Target $24.99
DIY hoodie! See onlythesmall.blogspot.com
* TIP: Throw that brown leather jacket over any of these hoodies for added warmth & sophistication! It will bring your game day look to a whole new level.
...And I thought Writing about it would satisfy my urge for all things fall... Silly me! Hurry up September 22nd! Fall Lovers Unite! It's getting closer as we speak... can you feel it in the air? ...I think I'll go do some shopping in the mean time :)
What is YOUR favorite fall accessory/ activity? I'd love to hear!